Image: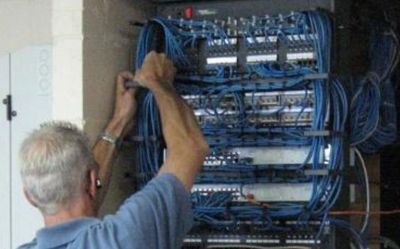 Premise Wiring can be something that is either trouble free, or an endless source of headache.  It all depends on how well your premise wiring is planned, installed, organized, and finished.  Investing in quality wire, connectors, and mounting will insure against future problems and make maintenance much easier. 
If you are building a new office, you want to get us involved in your wiring project as soon as possible, preferably in the initial design phase well before the walls go up.  Most electricians will do exactly what you tell them to do with no concern for design or how well the network system will turn out.  We are designers, implementors, and maintainers who hope to keep you as a satisfied customer on a maintenance plan for a long time supporting your mission critical operations.
We have access to the best available, commercial grade, wire, supplies, panels, and finish to do the job right.  Your customers will notice right away whether or not your wiring was installed professionally.
If the wiring in your office is a product of evolution and looks like a disorganized mess that nobody understands, we can help taim your jumble of wires and bring back a reasonable level of reliability.
Premise Wiring can include: Computer Network, Alarm System, Surveylance System, Telephone, Audio, and Video, Satalite, and Cable.  We do it all.  Not only do we do the wiring, but we also work with your service providers to make sure that their services are brought in and connected to your network.