Image: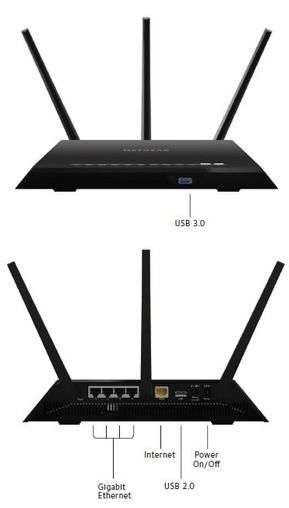 Netgear R7000 "Nighthawk" Tomato Router  (Price:  $325 installed)
Price Includes:  America Only Internet USB Stick
This router is a major advancement in the raw power you would expect to find in a router.  Designed to satisfy the most demanding audiance "gamers", this router is equiped to blow everything else away.  Not long ago a router with this level of power would cost many thousands of dollars.  Even though is is primairally designed to satisfy gamers, this router will handle the processing needs of the most demanding business networks with ease.
As you make more and more use of the advanced features of the Tomato Router software, the need for processing power and speed increases.  This is especially true as Internet connections become faster and faster.  The Netgear R7000 router is able to process a constant high of volume data quickly.  The fast processor makes intelligent decisions to keep your network safe.   We know how to put the additional memory and processing power of of the "Nighthawk" to good use.  These advanced features include International Firewall Rules, and being able to work with our Network Monitoring Server to detect and stop threats with our Active Firewall.  This is one of the first routers on the market with a USB 3.0 Port.  USB 3.0 is five times faster than the USB 2.0 port on the Netgear WNR3500.  We make good use of this USB 3.0 port by installing OptWare on a thumb drive to expand number and size of modules that can be used.  Now we have plenty of high speed storage capacity to keep things like lists of thousands of IP address for firewall filtering rules. 
Features include:   Powerful Dual Core 1GZ Processor, 128 MB flash and 256 RAM Memory, 4-Port 1GHZ Ethernet Switch, USB 2.0 Port and USB 3.0 Port, and a really powerful wireless capability!
Besides the cost of the router, our price includes up to two hours of installation services.  After listening to your networking requirements, we will configure this router and ship it to you and continue to work with you until the router is fully implemented.  We can set up and maintain this router remotely.